Brimstone's Advanced Sulfur Recovery Course
When:                    October 11th – October 15th, 2021
In-Person Cost:   $3,600 USD per attendee
Virtual Cost:        $2,800 USD per attendee
Instructor:            Elmo Nasato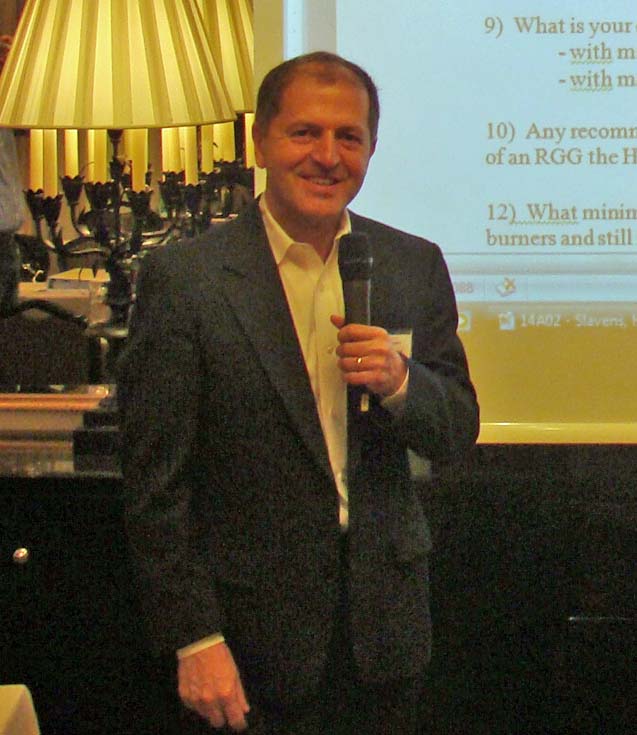 Brimstone's Advanced Sulfur Recovery Course covers advanced topics in sulfur recovery and is designed to expand and broaden the existing knowledge of your plant operators, engineers, and supervisors. A course such as this is possible due to the extensive hands-on experience of our outstanding instructional staff, many of whom have worked as Subject Matter Experts for their respective companies.  (Click to view our instructional staff.) Their vast experience allows informative back-and-forth exchanges on a wide range of sulfur recovery topics.
This course is aimed at people with at least two years of experience in the areas of sulfur recovery and amine treating. That said, we feel that even attendees with SME-level experience will leave with new and useful information.
Brimstone's week-long Advanced Sulfur Recovery Course differs from our (and other) "fundamentals" courses in both structure and content.  Like our well-known Sulfur Recovery Symposia, the goal is to involve everyone in highly interactive discussions that are informative to all attendees. This advanced course covers and helps answer deeper topics including questions like:
What can we do to ensure ammonia destruction? Or BTEX destruction?
Will our Claus or TGU catalyst last to the next turnaround?
What are the safe ways to light or re-light a Claus reaction furnace (thermal reactor)?
How do I evaluate the validity of the various pieces of data from my operating unit?
Which design parameters are critical in thermal reactor/waste heat boiler design?
How do we safely sample lean and rich amine solvent to ensure reliable analysis?
What are the guidelines for identifying and correcting corrosion problems?
How should we interpret the results of a detailed amine HSS analysis?
What can we do to prevent and manage SO2 breakthroughs in the tail gas unit?
What are the best ways to manage catalyst in order to maximize operating life?
Periodically, attendees will be divided into small groups to work together on tasks such as:
process troubleshooting and plant data interpretation
equipment evaluation and selection
maintenance issues and downtime minimization
startup and shutdown procedures
The Brimstone Advanced Sulfur Recovery Course will feature an afternoon session working with the highly respected ProTreat® Sulfur Recovery and Gas Treating Simulator, guided by the Optimized Gas Treating staff. Such exercises help provide a better understanding of important parameters that affect the operation of their plants and are extremely helpful in teaching how to optimize and troubleshoot these sulfur processing units.
For the first time, Brimstone is offering our training courses both as live, in-person classroom sessions and in virtual form via Zoom.
Advanced Sulfur Recovery Course Outline
Session 1 – Day 1, morning
Sulfur Recovery/Claus Process Overview
Claus Configurations/Design Options
Claus Equipment Overview:

Reaction Furnace/Wasteheat Boiler
Catalytic Stages and Reheaters
Session 2 – Day 1, afternoon
Claus Equipment Overview (cont'd):

Sulfur Condensers & Rundown Systems
Instrumentation and Control
Selection and Design Issues
Session 3 – Day 2, morning
Tail Gas Treating
TGU Configurations / Design Options
Incineration
Session 4 – Day 2, afternoon
Claus Unit Operations
Tail Gas Unit Operations
Claus & TGU Startups and Shutdowns
Session 5 – Day 3, morning
Claus Ammonia Destruction
Claus Oxygen Enrichment
Claus Stoichiometry
Claus and TGU Catalysts
Session 6 – Day 3, afternoon
Claus and TGU Troubleshooting and Diagnostics
Performance Evaluation Testing
Team Building Activity
Session 7 – Day 4, morning
Gas Treating / Amine Plant Operations
Sour Water Stripper Operations
Session 8 – Day 4, afternoon
Process Simulation with OGT's ProTreat
Simulation Case Studies
Session 9 – Day 5, morning
Summary and Review
Open Q&A
Who Will Benefit from the Brimstone Advanced Sulfur Recovery Course?
These courses are intended for plant staff with at least two to three years of experience in sulfur recovery in any of the following areas:
plant operators
process and project engineers
supervisors and managers
plant maintenance staff
Anyone involved with your sulfur recovery and tail gas units who completes this training course will be better able and prepared to do their jobs.  We all share the same goals: safe, efficient, and cost-effective plant operations.
Course Registration:
Please use the registration form at this linked page. Space for the Advanced Sulfur Recovery course is limited and seats are allotted on a first-come, first served basis, so please make sure you register early.
Cost of Course:
The cost for Brimstone's Advanced Sulfur Recovery Course will be $3,600 USD per live classroom attendee or $2,800 per virtual (Zoom) attendee. Payment is due no later than one week prior to the beginning of the course by check or credit card (Visa, Mastercard or American Express) or by wire transfer. Registration can be canceled up to ten days prior to the start of the course without penalty. After that deadline, no refunds can be given. Substitutions are allowed at. Payments can be made through Paypal, by credit card or by check. Payment details will be included in the registration invoice.
Request More Information:
If you have any questions or would like additional information about our training courses, please don't hesitate to contact us!
Contact Mike Anderson at +1-909-597-3249 or use the form below.
6547 South Racine Circle
Suite 1600
Centennial, Colorado 80111
Tel: +1-909-597-3249
Fax: +1-909-597-4839
Contact Brimstone STS Limited Today!