Mr. / Ms. Sulfur™ Club
Membership in the "Mr./Ms. SULFUR™ Club" is an acknowledgment of "EXCEPTIONAL KNOWLEDGE AND EXPERIENCE with extensive contributions to the sulfur/amine process industry".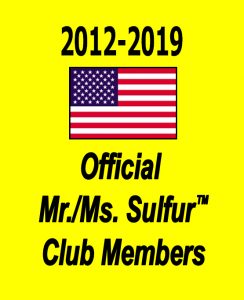 Membership to the "Mr./Ms. Sulfur™ Club" is given to those people who are peer-recognized for demonstrating exceptional knowledge and experience in the fields of sulfur recovery and amine treating. They are also distinguished for going above and beyond by publicly contributing to the betterment of the industry. Often, this involves participation in industry committees along with publication and presentation of important technical papers that inform the industry as a whole.
During the last six years, "Mr./Ms. Sulfur™ Club" membership has been awarded to 19 members of our industry. These recipients include experts from operating companies, vendor/supply companies, and academia. Along with the conventional awarded memberships, there are also honorary and special achievement recipients. Typically, one or two memberships are awarded each year, chosen through nomination and voting by the existing club members.
The "Mr./Ms. Sulfur™ Club" is the brainchild of Philip Oberbroeckling of Houston Refining.  After being nicknamed "Mr. Sulfur" by the Sulfur Complex Modernization/Expansion Project Team at his refinery in 2011, Phil had the idea to share this concept of industry recognition and expand it beyond the borders of his plant into the sulfur/amine industry as a whole.
As Club President, he developed the club organization and voting policies and has conducted the awards ceremony every year since its beginning in 2012 at the Brimstone Vail Sulfur Symposium. Philip also created the iconic trophy "Mr. Sulfur Hat", given to every new member at each annual awards ceremony. Although the awarding of membership originated at the Brimstone Vail Sulfur Symposium, it is not limited to attendees of that conference. Nor is it limited to those from North America: we expect to reach out and begin nominating members on a global basis in the near future.
When considering potential club members, an emphasis is given to recent contributions coupled with career-long achievements.  An example would be the tremendous recent efforts made by many people to the API/ANSI 565 Standard Development on Thermal Reactors.
Phil Oberbroeckling "Founder"
Mr. "Sulfur" 2012

Philip is the Manager of Strategic Process Technology and the Subject Matter Expert of Sulfur Recovery and Treating for the LyondellBasell Houston, Texas Refinery. Over Philip's 28 years of service in the refining industry, he has held numerous engineering and management positions in Technical, HSSE and Operations including 5-year tenure as the Operations Superintendent of the Houston Refinery Sulfur Recovery Complex (SRC), the Chief Engineer for the SRC 2011-2013 Revamp and Expansion Project, and Technical Consultant to the Berre France Refinery TGU Project. Philip holds a B.Sc. degree in Chemical Engineering from Iowa State University and is a registered Professional Engineer in Montana and Texas. He has authored over 40 conference papers and presentations on sulfur recovery and refining topics. Philip is a member of the Brimstone Sulfur Recovery Symposium Advisory Committee, a Task-Group leader for the API 565 Standards Committee on SRU Thermal Reactors, and a member of the Amine Best Practices Group. He is married to Michaele, has two daughters Kyra and Kacy, and resides in Kingwood, TX.
Lon Stern
Mr. "Sulfur" 2013

Lon has a career spanning over 50 years in gas treating, sour water stripping and sulfur recovery field. He began his career with Shell Oil Co. and worked 40 years in various assignments for Shell before starting his own consulting business. He was a treating and sulfur recovery processes Subject Matter Expert at Shell for many years. Among his responsibilities was providing training to operations and technical staff in the areas of sulfur recovery and gas treating. He has a Bachelor's degree in Chemical Engineering from Texas Tech University. He is a licensed Professional Engineer in Texas and a member of various industry-wide organizations such as the Amine Best Practices Group (ABPG). He has authored numerous technical papers and industry presentations and is the ABPG Data Exchange Network (DEN) spokesperson at the annual Brimstone Sulfur Recovery Symposium in Vail. Lon and his wife Kay have one adult daughter and reside in Houston, Texas.
Peter Clark
Mr. "Sulfur" 2013

Peter Clark was born in London, England and received B.Sc. and Ph.D. degrees in chemistry from the University of Hull. After an initial period in the pharmaceutical industry in the UK, Peter migrated to Western Canada taking up the challenge of R&D in the energy field with an emphasis on the chemistry of sulphur recovery from fossil fuels. From 1995 to 2017, Professor Clark served as Director of Research of Alberta Sulphur Research Ltd. (at the University of Calgary. During that time, he built the company into an international organization recognized for its expertise in a wide array of sulphur chemistry and technology. Professor Clark's research interests include most aspects of sour gas production, sulphur recovery, sulphur handling and energy efficient methods for petrochemical production. He is also examining links between fossil fuel, high-intensity agriculture and industrial commodities production. Professor Clark has published extensively in both the academic and applied literature and has been recognized by the Society for Chemical Industry, the Canadian Catalysis Society and the Gas Processors Association.
Norm Dowling
Mr. "Sulfur" 2013

Norm is currently Senior Research Scientist and Project Manager at Alberta Sulphur Research Ltd. (retiring at the end of Dec 2018). His career has spanned 36 years with ASRL during which time he has engaged in research on all aspects of the Claus process (furnace and catalytic stage chemistry, tail gas systems and incineration, including kinetics and Claus plant modeling) and implemented a Gibbs free energy minimization program for calculation of equilibria in the Claus system. Other areas of research include H 2 S thermal cracking, sulfur handling and corrosion in condensed sulfur systems and sour gas environments. Norm holds a B.Sc. degree in Chemistry from Exeter University (UK), M.Sc. in Chemistry from University of Toronto and Ph.D. in Chemistry from University of Guelph and is a recipient of the CGPA William Rea Memorial Award. He has authored or co-authored over 80 journal and conference publications. He is married to Ann, has two daughters Nicole and Christine and lives in Calgary, Alberta.
Rob Marriot
Mr. "Sulfur" 2013

Rob is the 3 rd ASRL Director of Research and holds the NSERC ASRL Industrial Research Chair in Applied Sulfur Chemistry at the University of Calgary. Rob has been with ASRL for 14 years and professor in the Department of Chemistry for 7, where he has taught quantum chemistry, first year physical chemistry, advanced heterogeneous catalysis and colloid / surface chemistry for chemical engineers. He received his BSc/MSc from the University of Lethbridge (solution thermodynamics) and PhD from Dalhousie University (Materials Chemistry). Rob's research interests include high pressure sour gas properties and sulfur process chemistry. Current research projects include understanding elemental sulfur deposition, high-pressure sour gas adsorption, thermochemical modelling, improved CS 2 destruction, low sulfur recovery, sulfur rheology, sulfur solvents, water content of sour fluids, hydrate formation, reservoir souring, acid gas pVT properties, degassing and corrosion mitigation. Rob and wife Leanne have two sons, Gavin and Mason.
Don Watson "Honorary"
Mr. "Music" 2013

Don Watson has been a musician performing around the Vail Valley for 20 years. He's a staple in Vail, and has performed at our annual Wednesday evening dinners for the last 13 years, either alone or with his group, The Vail Valley Band. Many of our veteran attendees consider him an indispensible part of the conference.  When he's not on stage, Don's pursuing his other passion — fencing. He is competing in U.S. Fencing Association tournaments across the U.S. in the 60-and-older division with expectations of qualifying for Team USA.
"I got to say it feels good to beat someone half your age," Watson said, "or a third of your age." As part of his pursuit to make the national fencing team, Watson is looking for sponsorships, big and small, to help with his equipment, travel and other expenses. "It's a matter of how much can I afford to do," he said. "I'm a working man. I'm a musician who schleps his own equipment, and I work with the high school kids and fence with the college kids."
To help support Watson, call 970-470-1420 or email [email protected].
Mike Huffmaster
Mr. "Sulfur" 2014

Michael has a career in the oil & gas industry that has spanned for over 50 years and he is currently an industry independent consultant in the areas of gas treating, sulfur recovery, and tail gas treating. He retired from Shell Oil after 38 years of service, where he held the position of Principal Engineer, Treating and Sulfur Recovery. He holds a Bachelor of Science degree in Chemical Engineering from Georgia Tech and is a registered Professional Engineer in Texas. Michael has over 40 years experience working in the sulfur recovery and gas treating industry that include production systems, gas conditioning, gas processing and liquids recovery, sulfur recovery and tail gas treating, among others.  His technical expertise areas include process selection and design, along with process troubleshooting for many sulfur-related processes. Michael has authored numerous industry papers and presentations and continues in industry advocacy. Michael and his wife Robbie reside in the Houston, Texas area.
Mike Anderson
Mr. "Sulfur" 2015

Mike Anderson is the President and Technical Services Manager of Brimstone-STS Limited.  He has worked as a research engineer at Unocal's Science & Technology Division for nine years, specializing in sulfur and gas treating process development and technical support for Unocal refineries and gas processing facilities.  In 1998, he joined Western Research & Development as the process engineer, doing field performance evaluation testing.  Four years later, Mike co-founded Brimstone and has been involved with sulfur recovery operations since.  He has a Bachelor of Science in Chemical Engineering from USC and a Master of Science in Chemical Engineering (in molecular thermodynamics) from the University of Illinois.  He has authored a number of publications in the areas sulfur recovery, tail gas treating and gas processing.
Al Keller
Mr. "Sulfur" 2014

Al is currently an Industry Consultant and Instructor for Sulfur Recovery and Treating. Retiring in 2017 after 36 years of service, he was the Director of Sulfur Processing for Phillips 66, ConocoPhillips and Conoco from 1993 to 2017. He assisted with the first COPE (II) sulfur plants at the Conoco Lake Charles Refinery. From 1985 to 1993, he led development of the HSSX®, HCX™, and SSX™ offered by MPR Services. From 1998 to 2006, Al developed the catalytic SPOC™ process replacing Claus reaction furnace and novel improvements to Claus sulfur recovery. From 2006 to 2017, Al developed the ICOn™ sulfur degassing process offered by CSI-Ametek. Al is a Member Emeritus of the Amine Best Practices Group and an adviser to several sulfur conference and research committees. He currently holds 32 US and several foreign patents and has authored numerous industry publications. Al and his wife Julie have three adult sons and reside in the Denver, CO area.
Greg Hanlon
Mr. "Sulfur" 2015

Greg is currently an independent Principle Consultant at Treating & Sulfur Solutions Inc. He has worked in many aspects of gas and liquid treating and sulfur recovery for over 45 years, from laboratory testing and monitoring of the processes, to commissioning and start-up of some of the largest upstream and downstream facilities in the world, to design and operation of many of these same facilities. He was the treating and sulfur specialist in Shell Canada for over 18 years. A career key role has been the training and mentoring of operations, engineering and maintenance personnel on the process chemistry, the unit operations and the optimization of the various treating and sulfur processes, and he continues this tradition through extensive industry advocacy. Greg holds Bachelor of Science degrees in chemistry and chemical engineering from Manitoba and Calgary Universities and is a registered professional engineer in Alberta, Canada. Greg and his wife Dana (met at ASRL) have three adult children and reside in the outskirts of Calgary, AB Canada.
John Morgan
Mr. "Sulfur" 2015

John began his sulfur/gas treating career in the Fort McMurray GCOS Oil Sands and Fox Creek, Alberta, Canada sour gas plants. The next 25 years involved EPC and commissioning work in several related projects including Waterton, Table Rock and Evanston Wyoming, etc. For the last 20+ years he has been active in training and consulting. With the late Robert N. Maddox, he co-authored the textbook 'Gas Treating and Sulfur Recovery.' He is an enthusiastic and experienced instructor. He holds Bachelor's and Master's degrees from the University of London and Colorado School of Mines in chemical and chemical/petroleum engineering. His committee work included the Editorial Review Board of the Gas Processors Suppliers Association and Senior Advisory Board of the Laurance Reid Gas Conditioning Conference. He has moderated the Brimstone Sulfur Symposium Q&A sessions for over 20 years and performed other similar moderator activities. As the Chairman Emeritus of John M Campbell/PetroSkills he conducts world-wide training. He and his wife Sylvia have three adult children and reside in the Denver area.
Jim Jenkins
Mr. "Sulfur" 2016

Jim is a Principle Engineer in the Manufacturing Support and Excellence Group for Shell Oil Products US based in Houston Texas. Over the past 25+ years, Jim has held numerous engineering and management roles in the Oil & Gas Industry and the Chemicals Processing Industry including facility management, maintenance and turnaround management, operations support and central engineering office management and supervision. Jim holds a Bachelor of Science degree in Chemical & Petroleum Engineering from the University of Pittsburgh. Jim has co-authored over 25 papers for various publications and conferences on Gas Processing and Sulfur Recovery. Jim is married to Stephanie, has one son Wyatt and resides in Houston Texas.
Dave Sikorski
Mr. "Sulfur" 2016

David A. Sikorski is based in the Head office of HEC Technologies/HEC International Inc./HEC Canada Inc. located in Calgary, Alberta, Canada. David is the President and Products Manager handling HEC's corporate, legal and administration activities along with technical reviews and commercial oversight. David has over 40 years of experience in combustion and heat exchange equipment technologies and has been involved in SRU combustion equipment for over 38 years pertaining to gas plants and refineries. David holds a B.A.Sc. degree in Mechanical Engineering from the University of Calgary. David is a member of the Brimstone Sulfur Recovery Symposium Technical Advisory Committee, Alberta Sulfur Research finance subcommittee member, former ASR president, and a Mr./Ms. Sulfur Club member.
Domenica Misale
Ms. "Sulfur" 2016

Domenica is the Technical Director at Industrial Ceramics Limited in Ontario, Canada. She  joined Industrial Ceramics in October of 1987, shortly after graduating from McMaster University. Domenica has been involved in numerous tubesheet reliability studies and root cause analysis during the last 32 years; through which she has developed an in depth understanding of the design factors, operating conditions and material properties that impact the reliability and integrity of these systems. She serves as a sub-group leader on API 565 team, tasked with developing recommended practices for tubesheet protection systems in SRUs, and is part of the technical advisory committee for Brimstone Sulfur Symposium and Sogat. She is author of several technical papers and has presented at conferences worldwide. Domenica is married to Stephen Lyttle and together they have a daughter Amelia.   
Susan Grigson
Ms. "Sulfur" 2017

Susan is a Senior Consulting Engineer with the Ortloff Technology Group in Midland, Texas. Susan has held numerous process engineering positions in the oil and gas industry including research engineer for Exxon Production Research (1979-1981), project engineer for Exxon USA (1981-1985), and process engineer for Perry Gas Processors (1987-1989). She finally got to work with sulfur plants when she joined Ortloff in 1989. Susan holds a Bachelor of Science degree in Chemical Engineering from Tulane University and is a registered Professional Engineer in Texas. Susan has co‑authored several conference papers and presentations on sulfur recovery and natural gas processing topics. Susan is a member of the Laurance Reid Gas Conditioning Conference Advisory Committee, a leader for the task group developing the new ANSI / API Standard 565 on SRU Thermal Reactors, and a member of the Alberta Sulphur Research board of directors. Susan is married to Lee and resides in Midland, Texas.
Jay Davis
Mr. "Sulfur" 2017

Jay is the Network Leader for Sulfur Processing for Chevron where he is located at the Pascagoula, Mississippi Refinery. Following graduation from Mississippi State University in 1990 with a Bachelor of Science degree in Chemical Engineering, Jay has worked in numerous process engineering, process control and capital project positions at Shell Oil and Chevron.  Jay currently serves as Task Group Chairman for the new Standard covering Sulfur Unit Thermal Reactors – API 565, member of the Board of Directors for Alberta Sulfur Research Ltd, and a member of the Amine Best Practices Group of Sulfur Industry leaders. Jay received his Safety Yellow hat and was inducted into the Mr. Sulfur Club in 2017. Jay's hobbies include long road trips, triathlon training, and spending quality beach time with his wife of 28 years, Kim. Jay and Kim reside in their hometown of Lucedale, Mississippi where they are surrounded by lifelong friends and family.
Elmo Nasato
Mr. "Sulfur" 2018

Elmo is the President and Senior Process Consultant at Nasato Consulting Ltd. specializing in sulphur recovery, amine treating and sour water processing, including participating as lead instructor for Brimstone STS. He has over 30 years of experience in the sulphur recovery industry working for both Operating and Consulting/Technology companies. He graduated from the University of Waterloo, Ontario, Canada with a B.Sc. Chemical Engineering and is a registered Professional Engineer in Ontario, Canada. He currently serves on the Technical Advisory Committee for the Laurance Reid Gas Conditioning Conference, was on the Board of Directors for Alberta Sulphur Research (2007-2013) and moderates/presents at other conferences including the Brimstone Sulfur Recovery Symposium. He has been awarded six patents for SRU operation, oxygen enrichment and sulphur degassing technologies, has published 25 papers and has made over 40 presentations at conferences worldwide. Elmo and his wife Lynda have three children and ride in the Toronto, Canada area.
Bart Welch
Mr. "Sulfur" 2018

Bart is the Network Leader for Amine and Sour Water Treating for Chevron where he is located at the Pascagoula, Mississippi Refinery. Following 1991 graduation with a degree in Chemical Engineering from the University of South Alabama, Bart has held numerous positions in leadership, process engineering, process controls, and capital projects at Chevron. Bart currently serves on the Advisory Board for Brimstone Sulfur Symposium – Vail and the Laurence Reid Gas Conditioning Conference. Bart is also a member of the Amine Best Practices Group of Sulfur Industry leaders. Bart and his wife Becky have been married for 28 years where they reside in Mobile, Alabama. They have two children, Jessica, 20, is in her third year at the University of Alabama majoring in English Education and Sam, 16, is a Junior at St. Luke's Episcopal School. Bart's hobbies include exercise, hiking, reading, British mystery TV Shows & Superhero movies with the kids.
Gene Goar
Mr. "Sulfur" 2018

Gene is currently the owner and principle consultant at Goar Sulfur Services & Assistance based in Tyler, Texas. Gene has a vast career in the sulfur recovery industry that has spanned over 60 years. Most notably, Gene was the Co-Founder, President and Senior Consultant of Goar, Allison & Associates totaling 27 years of which he held the Presidency for 25 years, bringing to market invented technologies such as COPE ® and D'GAASS ®, and designer/licenser of a vast technology portfolio including the first SUPERCLAUS® in Canada/North America. Prior to this he worked at various operating and EPC companies. He is a Chemical Engineering graduate from the University of Texas and is a registered Professional Engineer in Texas. He has written and published over 150 technical papers, contributed to 3 books, holds several patents, and taught many seminars throughout the world. He received the Chemical Engineering Kirkpatrick Award in 1987, and the British Sulphur and GPA Lifetime Achievement Awards in 2000 and 2016, respectively. Gene has an adult daughter and has resided in Tyler, Texas for the last 15 years.